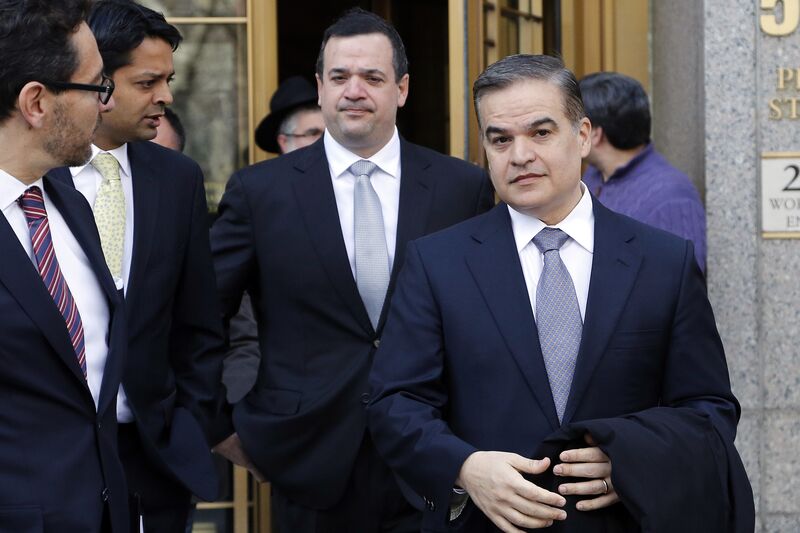 Honduran President Juan Orlando Hernandez's former investment minister pleaded guilty in Manhattan to involvement in a botched money-laundering deal for known drug traffickers, part of a wide-ranging corruption scandal that shook the nation's elite two years ago.
Yankel Rosenthal, a nephew of the former Honduran vice president Jaime Rosenthal, who is also accused in the case, spoke softly in federal court on Tuesday as he described trying to help an attorney friend in Honduras buy real estate in Florida, even though he knew that friend provided services to drug traffickers. The deal didn't go through, but federal prosecutors contend they would have proven more wrongdoing at trial.
"I regret my lapse in judgment," Yankel Rosenthal, 48, said at the hearing before entering his plea. "I should not have been involved in this attempted transaction and I know that it was wrong."
U.S. District Judge Valerie Caproni in New York accepted his deal with prosecutors, released him on bail and scheduled a sentencing hearing for Jan. 19. He faces as long as 10 years behind bars, prosecutors said in a statement.
"Rosenthal tried to conceal drug-tainted money through the purchase of U.S. real estate, political contributions in Honduras, and even investment in a professional soccer team," Acting Manhattan U.S. Attorney Joon H. Kim said in the statement.
Lawyer Disappointed
Rosenthal's lawyer, Samidh Guha, said he was disappointed the prosecutors issued a statement containing "inflammatory" details of unproven allegations.
"Today, our client, Yankel Rosenthal, pled guilty to a single count of attempted money laundering which was not consummated," Guha said. "The plea was limited to this attempted transaction. No more, no less."
The U.S. alleged the real estate deal was part of a wide-ranging 11-year scheme to launder cash for violent drug traffickers, as well as proceeds derived from embezzling public funds and bribing Honduran officials. Yankel Rosenthal and Jaime Rosenthal were indicted in 2015 with former congressman Yani Rosenthal, a cousin who twice ran for president of Honduras; and Honduran banker Andres Acosta, who worked for the Rosenthal family's corporate empire and had extensive ties to drug traffickers. Jaime Rosenthal remains at large in Honduras.
The accusations stunned the elite in Honduras, one of the poorest nations in Latin America, and represented a sharp turn for the Rosenthals, who were among Honduras's wealthiest clans. The charges against the family came as a tide of corruption investigations was sweeping across the region from Brazil to Guatemala.
Bribes Solicited
Prosecutors said they have evidence that among other crimes, Yankel Rosenthal solicited a bribe in 2013 from a U.S.-based company that was seeking oil-exploration rights in the Central American nation. A principal at the company, which wasn't named by the U.S., eventually said it donated $100,000 his friend's presidential election.
Acosta, 42, pleaded guilty on Aug. 16 to laundering drug cash for the Cachiros, described by prosecutors as a major Honduran narcotics-trafficking organization. Acosta worked with Jaime Rosenthal and Yani Rosenthal to use the family empire to launder money for the Cachiros, the U.S. said. Yani Rosenthal pleaded guilty on Jan. 26 and is scheduled to be sentenced on Oct. 13.
Fabio Porfirio Lobo, the son of a former president of Honduras, helped in Acosta's money-laundering scheme involving the Cachiros. Lobo was convicted in a separate case of conspiring to import cocaine into the U.S. and is scheduled to be sentenced Sept. 5 in New York.
During a recorded meeting in Honduras with several Honduran drug traffickers, Yankel Rosenthal discussed bribes and the possibility of buying assistance from Honduran politicians so that the drug traffickers could avoid being targeted by law enforcement and extradited to the U.S., prosecutors said in the statement.
The U.S. Treasury Department in October 2015 placed sanctions on the family's holdings, just as Yankel Rosenthal, a former minister of investment and president of the Club Deportivo Marathon soccer team, was arrested in Miami. At the time, the Rosenthals had an extensive empire and a fortune worth $690 million, according to Bloomberg estimates.
The Treasury Department, tapping a law popularly known as the Kingpin Act, froze the family's assets and banned U.S. citizens from doing business with the Rosenthals' Panama-based holding company, Inversiones Continental, known as Grupo Continental. Its banking unit, Banco Continental, was also targeted, and Honduras's banking commission ordered it to liquidate.
The lender "served as an integral part of the Rosenthal money-laundering operations and facilitated the laundering of narcotics proceeds for multiple Central American drug trafficking organizations," the department said at the time. Treasury identified several offshore investment companies in the British Virgin Islands and real-estate assets in Florida that were part of the alleged scheme.
Jaime Rosenthal, vice president from 1986 to 1989 and a long-time Liberal party member, was one of the few wealthy Hondurans who spoke out against the 2009 overthrow of President Manuel Zelaya.
The case is U.S. v. Rosenthal Olivia, 1:13-cr-413, U.S. District Court, Southern District of New York (Manhattan).