The Breakdown
Cras tempus efficitur lorem. Aliquam erat volutpat. Vivamus dignissim ante a ipsum sagittis suscipit non sit amet ipsum. Vestibulum scelerisque, ante at ullamcorper dignissim, magna metus hendrerit augue, id suscipit nulla enim sed ex.
Pros
Fusce ut sodales sapien. Maecenas viverra vitae metus at viverra.
Cons
Morbi laoreet mi eu mollis iaculis. Donec maximus gravida ligula vel tristique.
Steady growth in home prices in 20 U.S. cities in June reflects a limited number of available houses for sale, according to S&P CoreLogic Case-Shiller data released Tuesday. Nationwide, values posted their largest advance in three years.
HIGHLIGHTS OF HOME PRICES (JUNE)
20-city property values index increased 5.7% y/y (est. 5.6% gain) for the second month
National home-price gauge rose 5.8% y/y, the most since June 2014
The seasonally adjusted 20-city index advanced 0.1% m/m (matching est.)
Key Takeaways
A persistent inventory shortage for previously-owned homes is keeping prices elevated at a time housing demand is being sustained by a strong job market and still-low mortgage rates. In the past few years, growth in property values has consistently outpaced wage gains and is holding back potential new entrants to the housing market.
Home prices in all 20 major cities increased from a year earlier and all but six posted month-over-month gains, the report showed.
Other recent reports showed the median sales price climbed in July for new and previously owned homes, contributing to a sales decline in both segments of the residential real-estate market.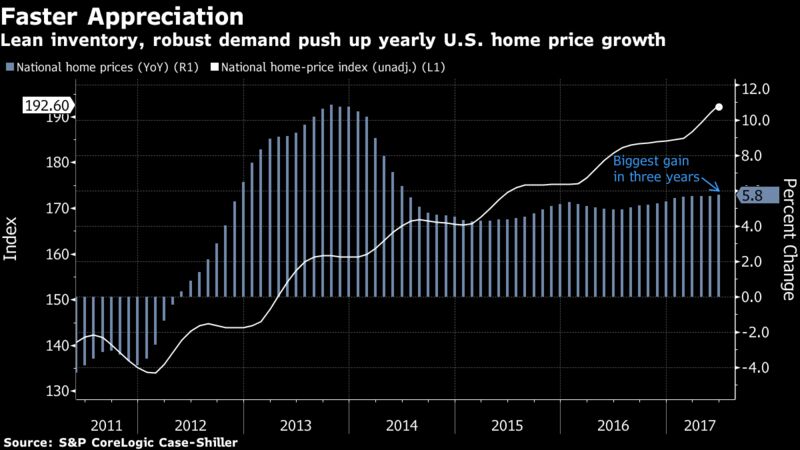 Economist Views
"The trend of increasing home prices is continuing," David Blitzer, chairman of the S&P index committee, said in a statement. "Price increases are supported by a tight housing market" with both the number of homes for sale and days a house is on the market declining for the past four to five years.
"Rising prices are the principal factor driving affordability down," Blitzer said.
Other Details
Seattle led the way in year-over-year price gains with a 13.4 percent increase followed by Portland, Oregon, at 8.2 percent
After seasonal adjustment, Seattle also had the biggest month-over-month rise at 0.8 percent, followed by a 0.6 percent increases in San Diego and Las Vegas
Home prices fell from a month earlier in Atlanta, Chicago, Cleveland and New York