We've been buying stuff for a generation. Now we need someplace to put it.
By Adam Minter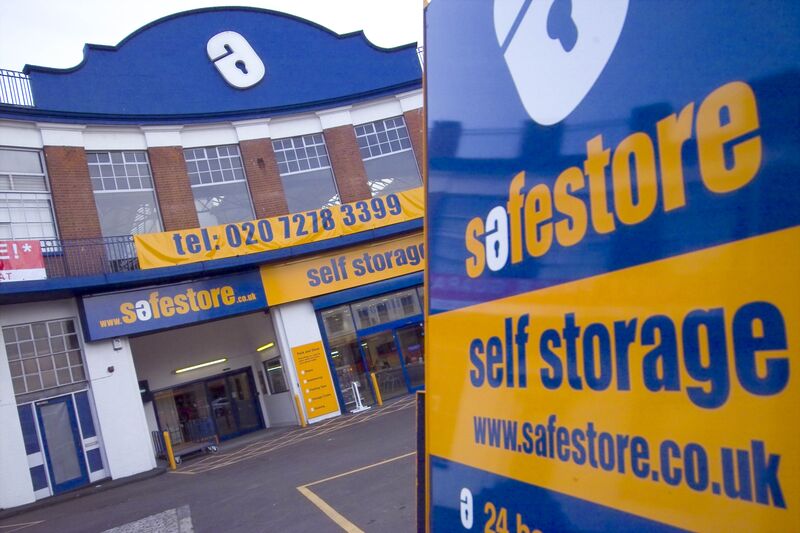 Investors in premium London real estate can rest easy knowing that their tenants are among the world's wealthiest and stable renters. That's the approach that the UK Real Estate Fund operated by Schroders Plc, the venerable U.K. asset manager, has long taken. Listed among the tenants of its $3 billion worth of properties are the British government, Tata Steel and Lloyd's Bank.
But in the era of Brexit nothing is certain, especially traditional London real estate. So earlier this month the Schroders fund purchased five London-area self-storage facilities for $55 million, making it one of the first institutional investors in this decidedly low-prestige sector.
What the purchase lacks in cachet, it makes up in demographic logic. Downsizing retirees and the growing ranks of home renters in London are creating a chronic need for somewhere to put all their stuff. And that's creating what Schroders and other real-estate investors see as a Brexit-proof and recession-proof opportunity.
The self-storage industry dates to the 19th century, when movers built warehouses for business customers. The first recognizably modern self-storage units, outfitted with garage doors, opened in Odessa, Texas, in 1964 under the name A-1 U-Store-It U-Lock-It U-Carry-the-Key (so as to be listed at the front of the phone book). Initially, the business catered to an oil industry that might need a temporary place to store equipment. But consumers, enjoying mid-century prosperity, soon began filling the spaces with stuff like old couches and unwanted exercise bikes.
Growth has been pretty spectacular. Today there are roughly 54,000 self-storage facilities in the U.S., which is home to 90 percent of the global self-storage inventory. Those sites hold 2.63 billion square feet of rentable storage — an area roughly the size of Palm Springs, California, golf courses and all.
All that space, sold in small increments, generates astonishing cash flow. The U.S. self-storage industry generated more than $32.7 billion in revenues last year, almost three times Hollywood's 2016 box office gross. In many cases, self storage is far more lucrative than conventional real estate investments. For example, the average cost of a U.S. self-storage locker was 97 cents per square foot per month in 2016 — roughly the same as the average one-bedroom apartment in Phoenix. In more expensive cities, self-storage rents are two or three times larger.
That growth story is driven by several factors, starting with the relentless accumulation of goods by American consumers. Between June 1967 and June 2017, expenditures on durable goods — things like couches, bikes, and iPhones — increased almost 20-fold. That's great for living standards until people run out of space. And many Americans are finding themselves constrained by stuff. As far back as 2006, researchers at the University of California at Los Angeles wrote that the storage of goods had "become an overwhelming burden for most middle-class families, especially in the West, where basements are generally not available to absorb possessions."
But an undue attachment to stuff isn't the only factor in the self-storage growth story. The industry also thrives on disruption, serving as a temporary resting place for the stuff of the dead, the recently divorced, the downsizers and the dislocated.
Those are the key factors driving the recent growth of self-storage in the U.K., which is now home to 47 percent of Europe's self-storage sites. According to an August survey, nearly half of U.K. retirees are willing to downsize to smaller homes. As the U.K. population ages, those numbers will grow, along with demand for storage space. Already, the demographics of the U.K.'s self-storage customer trend older: According to Cushman and Wakefield, 65 percent are between 40 and 65. Meanwhile, the divorced and separated are twice as likely to rent self-storage space as singles, underlining the industry's role as a safe haven for material goods during life disruptions.
The rest of Europe is likely to catch up to the U.K. as urbanization, smaller living spaces and rising property prices force homeowners to seek places to store their property. Already, Iceland, with one of the highest urbanization rates in Europe, trails only the U.K. and the Netherlands in per capita self-storage space. Asia's e-commerce boom and rapid urbanization are driving self-storage growth in developed markets like Singapore and Hong Kong.
Those trends are driving investments in a sector that most real-estate investors barely notice. In uncertain times, the simple self-storage space can look like the safest place to stash money.
To contact the editor responsible for this story:
Jonathan Landman at jlandman4@bloomberg.net