Toronto-Dominion Bank got its groove back.
Canada's largest lender by assets posted a 13 percent increase in profit from domestic personal and commercial banking in the fiscal third quarter, its best performance since the second quarter of 2015. That's welcome relief for investors who've seen the Toronto-based lender stumble on its home turf for most of the past year. Those results helped the bank top analysts' expectations and sent its shares up the most in 18 months.
"TD showed the strongest beat of the 'Big 6' this earnings season," Barclays Plc analyst John Aiken said Thursday in a note to clients. "Domestic retail operations saw a step up in profitability after being mired in lower growth over the past few quarters."
The results extend a profit turnaround that began in the second quarter, when a 7.1 percent jump in domestic earnings exceeded that of its rivals. Before that, Toronto-Dominion's main business trailed or was near the bottom of Canada's six largest lenders for the pace of growth in the three prior quarters. Canadian personal and commercial banking represents about half of the bank's annual earnings.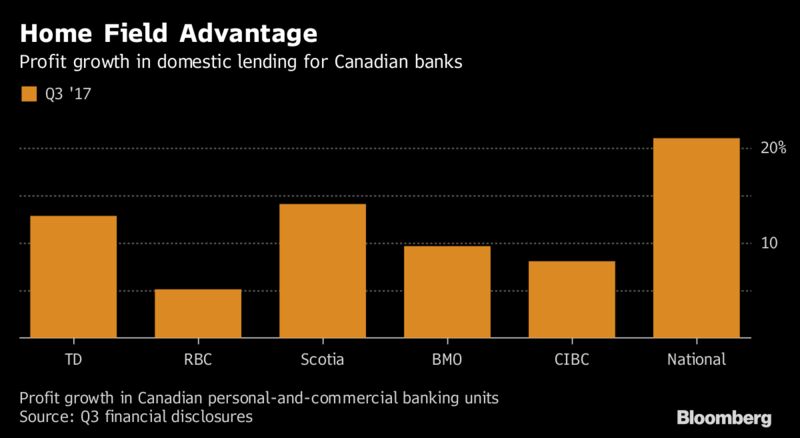 Even Toronto-Dominion's own equity analyst a year ago questioned why the bank was becoming a straggler in Canadian banking. Teri Currie, head of domestic banking, blamed lower interest rates, competitive pricing and cost of funds for mortgages at the time — factors all the country's lenders have faced. More recently, the bank cited higher costs tied to modernizing branches with Wi-Fi and iPads, and adding mobile mortgage advisers and customer support.
"Earnings in our Canadian retail segment have been accelerating, reflecting a better than expected Canadian economic environment," Chief Financial Officer Riaz Ahmed said in an interview Thursday. "We've been making a number of investments on the customer and operational side of the business that continue to allow us to provide for a better customer experience."
Toronto-Dominion shares climbed 3.3 percent to C$67.07 at 9:44 a.m. in Toronto, the most intraday since February 2016 and the best performance in the eight-company S&P/TSX Commercial Banks Index. The stock has advanced 1.1 percent this year.
Earnings from Canadian banking surged to C$1.3 billion ($1 billion) in the quarter ended July 31, the Toronto-based bank said in a statement, with profit growth that outperformed Royal Bank of Canada, Bank of Montreal and Canadian Imperial Bank of Commerce for the period.
Toronto-Dominion's pace of growth in mortgages still lags behind rivals, rising 1.3 percent from a year earlier, even as Canada's real estate market has boomed. The bank has said it's focusing more on selling home-equity credit lines, unsecured personal loans and other higher profit products. Margins in Canadian banking rose 4 basis points to 2.75 percent from the second quarter, the highest since 2015. It has also seen an increase in deposits and business lending.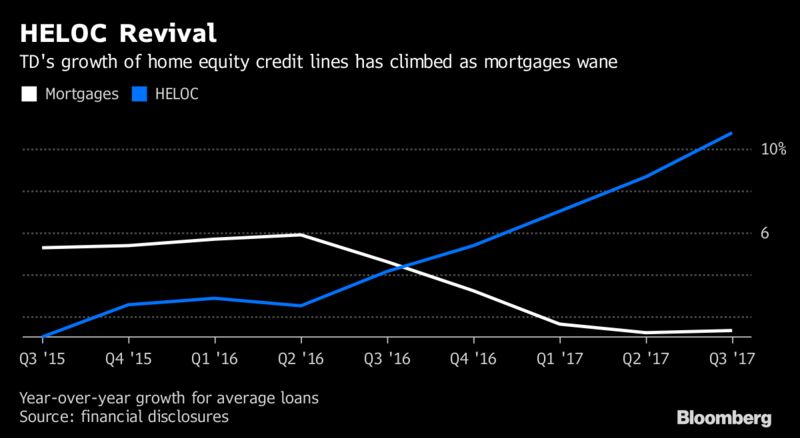 Canadian personal-and-commercial banking helped lift Canadian retail earnings 14 percent to C$1.73 billion, while U.S. retail rose 14 percent to C$901 million. Wholesale banking slid 3 percent to C$293 million.
Firmwide net income rose 17 percent to C$2.77 billion, or C$1.46 a share, from C$2.36 billion, or C$1.24, a year earlier, Toronto-Dominion said in its statement. Adjusted profit, which excludes some items, was C$1.51 a share, beating the C$1.37 average estimate of 12 analysts surveyed by Bloomberg.
The bank also said it plans to repurchase for cancellation as many as 20 million additional shares of its common stock, subject to regulatory approval.
Toronto-Dominion was the last of Canada's largest lenders to report quarterly results. All posted profit that exceeded analysts' expectations, with earnings growth driven mainly by domestic banking and wealth management.