According to a new report, the most active metropolitan areas include Chicago, where an inventory logjam appears to be loosening. Also, Colorado Springs, Washington, D.C., and Reno, Nevada, near Tesla's massive battery factory, which is attracting workers and driving housing demand. The least active metros are San Francisco, where the median home value has topped $1 million, and Rochester, N.Y., where a typical home is worth $177,000.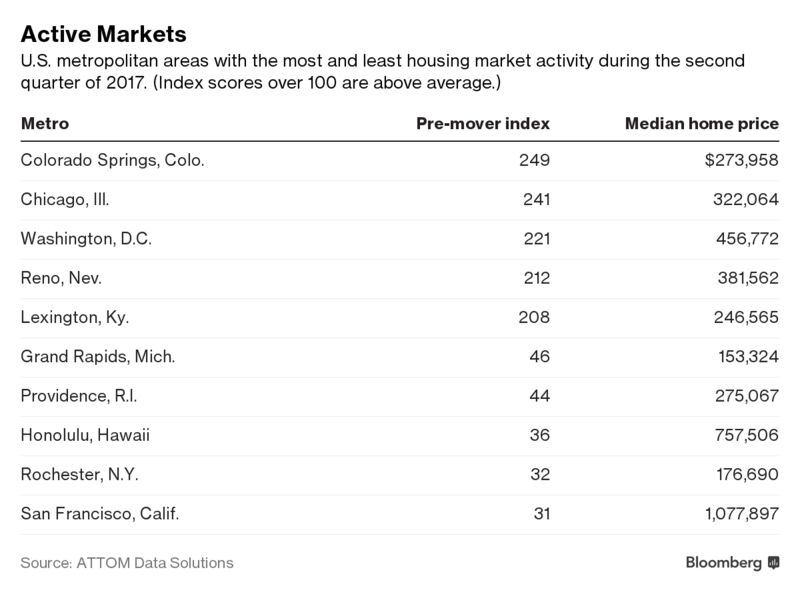 Markets, where homes are changing hands, are noteworthy at a time when inventory shortages have constrained sales while pushing prices higher and provoking bidding wars for listings that do hit the market. Limited supply and high prices have damped activity in markets, like San Francisco, that are typically associated with high demand.
The chart comes from Attom Data Solutions' pre-mover index, which derives from mortgage applications submitted during the second quarter of 2017, offering a glimpse of home sales just ahead. The index is compiled by comparing the number of homes flagged in mortgage applications to the total number of homes in a given market.
Because the data come from applications submitted from April through June, they include some transactions that have already closed and some that are still pending. The index offers faster feedback than data pulled from recorded sales, according to Daren Blomquist, senior vice president at Attom.
The report offers clues to where buyers are finding a greater supply of affordable homes, with the suburbs surrounding Washington, Chicago, and Atlanta topping the list of the busiest counties.
"Within regional markets, we're seeing some similar patterns to the last housing boom, where it became drive until you qualify," Blomquist said, referring to the real estate adage urging home hunters to go where they can afford to buy. Home loans are harder to get this time around, he added, but housing market activity appears most robust in "the outlying counties further from jobs, but also less expensive."