The FICO credit score is as ubiquitous as it is crucial in getting a mortgage.
Now, an odd-bedfellows alliance is out to break FICO's lock and allow scores from rival companies.
At stake, proponents say, is credit access for as many as 35 million consumers whom FICO doesn't evaluate, especially blacks and Hispanics with scant borrowing histories.
They've hit a wall in the form of mortgage giants Fannie Mae, Freddie Mac and their regulator, the Federal Housing Finance Agency. Allowing competitors would have little impact on consumers, the FHFA says, and could produce a "race to the bottom" if credit-score companies sought to make mortgages easier to get rather than improve accuracy.
The decade-long battle may be reaching a head. Fannie and Freddie face a year-end deadline to decide whether they'll allow FICO rivals, such as VantageScore Solutions LLC. And frustrated by the government's delays, lawmakers in both parties have introduced bills that would require the mortgage companies to consider different credit models. They're backed by advocates including the Consumer Federation of America and business groups like the National Association of Realtors.
The delay "doesn't make sense,'' said University of Southern California professor Richard Green, a former economist for Freddie Mac. "Competition can't make things worse.''
Underwriting Standards
Fannie Mae and Freddie Mac don't issue mortgages, but by financing trillions of dollars in loans they exert control over the underwriting standards lenders use to approve borrowers. To get a mortgage they back, home buyers need a minimum score of 620 on a scale of 300 to 850 — and it must come from Fair Isaac Corp.'s FICO.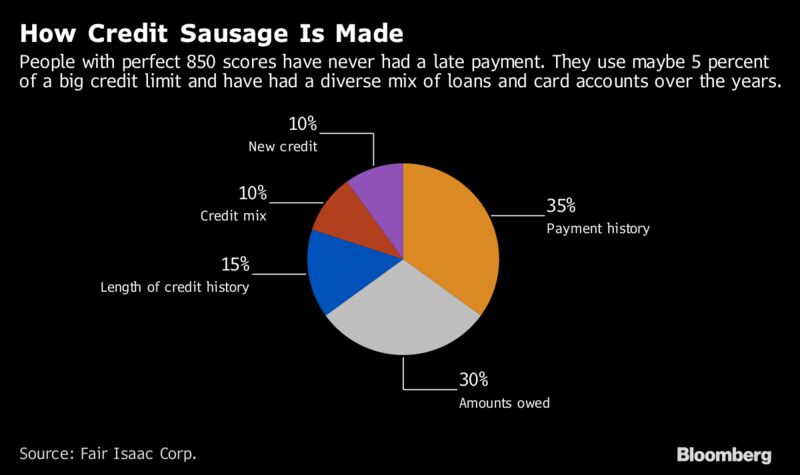 That's where the problem arises, some consumer advocates and economists say.
The FICO model is outdated, according to Laurie Goodman, co-director of the Urban Institute's Housing Finance Policy Center. It doesn't sufficiently distinguish between types of debt that newer models take into accounts, such as student loans or medical bills, she said.
Allowing competition with FICO, created in 1989, would also speed the use of alternative data like rent and utility payments that could open home ownership to more black and Hispanic borrowers, she added.
Some civil-rights and consumer groups favor VantageScore Solutions, which says it can score more borrowers by using an advanced credit model. The company incorporates data from 24 months of payment history, producing better evaluations of people who borrow infrequently, it says.
Read more: Here's How Your Credit Score Really Gets Set
VantageScore has fought to break into the mortgage market since 2006, when it was founded by the three main credit bureaus: Equifax Inc., Experian Plc and TransUnion.
Joanne Gaskin, who heads FICO's mortgage practice, said VantageScore evaluates borrowers who don't have enough of a credit history to derive an accurate score. She said that of the 35 million more consumers that VantageScore claims, few would meet the requirements of getting a loan.
VantageScore disputes that. It estimates that about 7.6 million of the 35 million people whom FICO doesn't review would have a score high enough to get a mortgage. Of those 7.6 million, the company estimates more than 72,000 would try to buy a home each year.
VantageScore Chief Executive Officer Barrett Burns said that criticisms about its score's reliability are belied by the fact that some lenders already use it for other kinds of products, such as auto loans and credit cards.
"No single company should have a government-sanctioned monopoly," Burns said.
Expensive Change
The FHFA says an analysis of new models, done by Fannie and Freddie, shows a change wouldn't broaden mortgage access very much and could be expensive. The agency plans to solicit public input this fall and said could release some of the findings. The regulator's list of 2017 goals for Fannie and Freddie includes deciding the issue by the end of the year.
Meanwhile, both Fair Isaac and VantageScore are lobbying Congress, where the fight could be moving.
South Carolina Republican Tim Scott and Virginia Democrat Mark Warner introduced a bill this month that would force the FHFA to allow Fannie and Freddie to use new models within six months. A bipartisan group of House lawmakers earlier this year introduced a similar bill. It isn't unclear how quickly Congress might act on the legislation.
Jason Madiedo, chief executive officer of Alterra Home Loans in Las Vegas, said that FHFA's delays in allowing new credit models have been frustrating to his company, which works with many Hispanic borrowers.
"The No. 1 wealth-building tool in America is real estate," Madiedo said. "Every month that passes by, they're widening the wealth gap because they're afraid to execute."